Discover the standout brownstones in Harlem that not only boast unique styles, but also command top prices. A hidden gem within Manhattan, Harlem offers a more affordable option compared to the rest of the brownstone market. However, it's worth noting the top 10 most expensive brownstones that have been sold in this vibrant neighborhood. While you may be familiar with properties near Marcus Garvey Park or in Morningside Heights, there have also been impressive sales in lesser-known areas like Hamilton Heights.
Now, let's unveil the top 10 most expensive brownstones sold in Harlem. Please keep in mind that these sales are limited to the top sales for 1-2 unit properties in Harlem. Get ready to be amazed by the luxurious residences that make Harlem truly exceptional.
1. 17 West 120th Street | $4,500,000 (9/15/2022) | Central Harlem South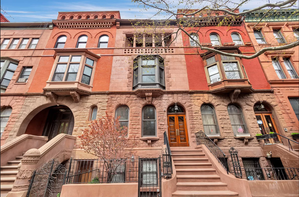 17 West 120th Street, a unique brownstone in Harlem,  this exceptional two-family 20ft home underwent extensive remodeling and restoration over a span of 3 years. The 4,900 sq ft residence comprised an owner's triplex with 4 oversized bedrooms, a home office, and 2.5 bathrooms. The grand restored front doors led to a brand new stairway with custom replicated spindles from 1909. The dining room was perfect for hosting large dinner parties, while the chef's kitchen featured Sub-Zero and Wolf appliances. The primary bedroom and ensuite bathroom exuded elegance, with beautiful curved molding and modern amenities. Additional features included guest bedrooms, a den area with a custom cabinet and hidden TV, a garden level apartment, and a remodeled lower level. Updates encompassed a new roof, plumbing, central heating/AC, water heater, flooring, and electrical.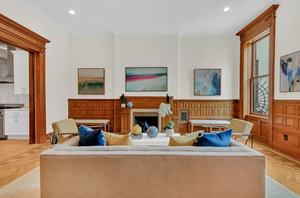 2. 433 West 147th Street | $4,500,000 (4/13/2023) | Hamilton Heights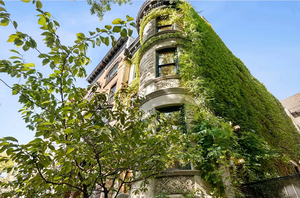 This magnificent five-story house in Historic Hamilton Heights had a private driveway, a buildable double lot of 35′ × 100′, and a stunningly landscaped garden. Designed by renowned architect Frederick Browne in 1899, the Romanesque Revival style rowhouse featured over 6,000 square feet of interior space, including a triplex, a floor-through garden apartment, and a cellar for recreation. The meticulously restored property boasted intricately detailed woodwork, quarter sawn oak wainscoting, mahogany, and oak pocket doors, as well as seven decorative gas fireplaces. With modernized mechanicals, electrical, central air, security, and audio systems, the house perfectly balanced turn-of-the-century charm with contemporary conveniences. The sun-filled rooms provided an abundance of natural light, while the Juliet balcony and terrace offered outdoor retreats. Located in the Hamilton Heights enclave, this residential neighborhood provided easy access to Midtown and all that New York has to offer. Though this exceptional property has already sold, its enchanting garden and tranquil ambiance were perfect for moments of peaceful respite from the bustling city. In spring, the garden bloomed with a colorful array of blossoms and songbirds added to the serene atmosphere.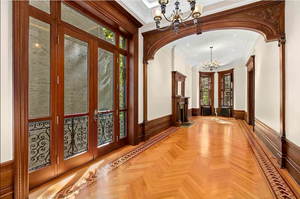 3. 469 West 143rd Street | $4,650,000 (1/20/2017) | Hamilton Heights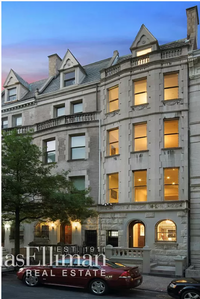 This majestic five-story townhouse was built in historic Hamilton Heights in 1895 by renowned architect Clarence True. It was the first in a lovely row of five Clarence True limestone buildings that ran from 469 to 477 West 143rd Street. All of them were outstanding examples of the architect's signature carved limestone facades and graceful low stoops. The stunning curved oak front door led you into the formal reception room with splendid bay windows, showcasing a wonderful example of understated grandeur. With a formal reception flowing through pocket doors to a large study with mahogany paneling and a secret half bath, this five-story (plus finished cellar) single-family home underwent a triple mint renovation, mindful of the original configuration and the needs of modern homeowners. The result was 5,810 square feet of sublime living space.
The main floor featured a living room, dining room, half bath, and a stunning gourmet kitchen with an 11' marble and butcher block island, Wolf range, and Sub-Zero appliances. The 11'+ ceiling and large windows flooded the space of grand proportions with natural light. The second floor housed the media room, three full baths, a laundry room, and two floors with four large bedrooms. On the fifth floor, there was a wonderful retreat called "The Hampton's Beach Room," designed in a nautical style with wood reclaimed from the house. It had a wet bar and a half bath, and just outside the patio doors, there was a 600 square foot roof deck to enjoy. With four fireplaces, herringbone and wide plank oak floors throughout, and stunning moldings, this storied house provided a truly remarkable living experience.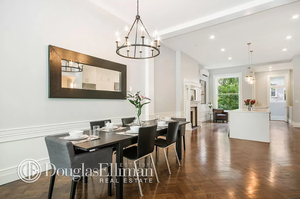 4. 19 West 120th Street | $4,700,000 (12/18/2019) | Central Harlem South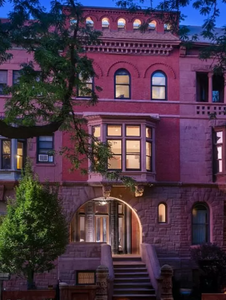 This elegant brownstone, known as the standout central property in a set of five townhouses built in 1887 by Alfred Barlow and James Kilpatrick, has been sold. With its gorgeous Romanesque Revival architecture, the house was situated in the heart of the Mount Morris Park Historic District, just half a block from the Park. The beautifully renovated home combined period detail with the comforts of contemporary living.
The home spanned twenty (20) feet wide and fifty-five (55) feet deep, with an additional extension. Divided into an Owners' Triplex, featuring twelve (12) foot ceilings throughout, and a Garden Apartment, the property offered a total of 5,550 square feet of livable space. The interior boasted original mahogany and oak woodwork, parquet floors, pocket doors, and period fireplaces, along with modern additions such as full central HVAC and a multi-camera security system.
The impressive facade showcased a beautiful arch and covered porch on the parlor level, while the third floor and roof displayed Romanesque arched windows and arches. A stately bay window graced the second floor. Inside, the graceful oak staircase took center stage on the Parlor floor, surrounded by the interplay of oak and mahogany in the interior design. The Great Room boasted carved oak French bay windows opening onto the covered porch.
The second floor featured an elegant master bedroom and bath, a front office and bath with a carved oak coppered bay window of exceptional quality, and a home cinema that could be transformed using a built-in Mitsubishi projector and cinema and blackout screens. The third floor included two beautiful bedrooms, a study, and laundry, along with two full baths, with the master bath featuring a matching Victoria and Albert IOS oval tub and sink. Skylights and strategically placed windows on each floor, combined with the twelve-foot ceilings, filled the house with abundant light and a sense of space.
The Garden Apartment, characterized by its modern and streamlined design, comprised a living room and kitchen. Though this remarkable home has already been sold, its allure and charm remain etched in history.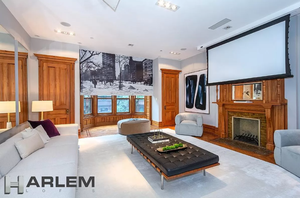 5. 124 East 101st Street | $4,800,000 (8/1/2018) | East Harlem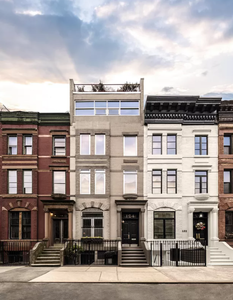 This stunning, five-story East Harlem townhouse has already charmed its new owners with its chic and sleek design. No detail was overlooked during its fully transformative gut renovation, resulting in a loft-like home that exudes modern elegance while embracing traditional townhouse living. The highest standards were meticulously achieved, including the addition of a full-length glass wall at the back of the building.
The impeccable interior design of this single-family townhouse has garnered attention from esteemed publications such as Elle Decor and Veranda. Its spacious gathering areas were flooded with natural light, making it an ideal space for entertaining guests. Three incredible outdoor spaces further elevate this property's appeal, including a south-facing garden boasting an actual lawn and two envy-inducing rooftop terraces.
Positioned in an undisturbed row on a quiet block, this townhouse enjoys a prime location just steps away from major transportation on Lexington Avenue and several prestigious schools. With four bedrooms, three full baths, and two half baths, this townhouse was the perfect choice for the owner who was ready to conquer East Harlem.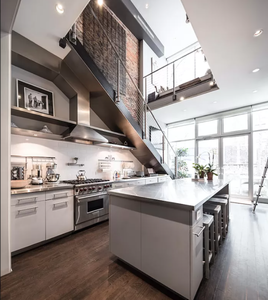 6. 326 Convent Ave | $4,950,000 (1/29/2016) | Hamilton Heights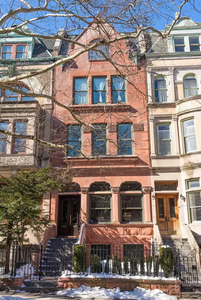 Discover the enchantment of a stately Manor on Convent Avenue, boasting magnificent grandeur in Hamilton Heights. This luxurious gem spans five floors and exudes elegance. With over 5,300 sq. ft. of stunning beauty, this fully renovated townhouse was meticulously restored by a world-renowned craftsman.
Step through the 18th-century doors and be transported back in time to a European Manor. The traditional triple parlor features soaring ceilings, ornate fireplaces, and exquisite woodwork. Stained-glass windows add an extra touch of elegance, creating a truly enchanting experience.
Ascend the dramatic winding staircase, bathed in sunlight and surrounded by subtle limestone. The open living room, dining room, and chef's kitchen on the next floor offer a modern high-end oasis with pewter countertops and state-of-the-art appliances.
Continue up the stairs to discover the breathtaking master suite. The generous spa-like bath showcases hand-carved mosaic tile work, a luxurious freestanding bath, a spacious rain shower, and a double vanity. The suite also includes a large walk-in closet and a charming boudoir sitting room leading to the master bedroom. Throughout the house, impeccable stone work and fixtures exude luxury at every corner.
The fifth floor is a true marvel, with charming woodwork and an intricate mosaic bath. It feels like a chic Parisian garret, offering sweeping views of the tree-lined Convent Avenue below. This sophisticated floor features two bedrooms, a sitting room, two baths, and a home office.
The garden level, with its beautifully landscaped front and back gardens, could be rented or used as a recreational space with an additional bedroom. The house boasts new systems, including central air, security, and even an elevator shaft.
Although this exceptional property has been sold, it will forever be remembered as a true masterpiece that once graced the prestigious Hamilton Heights.

7. 72 Hamilton Terrace | $5,100,000 (2/2/2018) | Hamilton Heights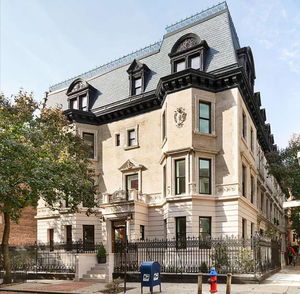 Hamilton Terrace was truly a hidden gem in the West Harlem enclave of Hamilton Heights. Its ornate limestone and terracotta facade, carved emblems, balcony, mansard slate roof, and multiple dormers were truly stunning. The original wrought iron fencing that surrounded the home, gardens, and abundance of windows on three exposures further enhanced the property.
The Terrace was anchored by the Hamilton Grange, the home of Alexander Hamilton, to the south, and the corner mansion at 72 Hamilton Terrace to the north. 72 Hamilton Terrace offered five floors of living with multiple living rooms and gas fireplaces, a gourmet kitchen, multiple outdoor spaces, and a recreation room in the finished cellar. With its four bedrooms, three full baths, and two half baths all with heated floors, it was the epitome of fine modern living.
Unfortunately, 72 Hamilton Terrace has already been sold. Nevertheless, it was an exceptional property that offered an abundance of features. The oak flooring throughout, gourmet kitchen with Wolf, Sub-zero, Miele, and Gaggenau appliances, finished cellar and games room, and the extensive storage were just a few highlights. Additionally, the property boasted 9-zone heating and air conditioning, ensuring ultimate comfort.
Even though the opportunity to own this remarkable property has passed, the history and charm of Hamilton Terrace will always be remembered in one of the most remarkable historic districts in all of Manhattan.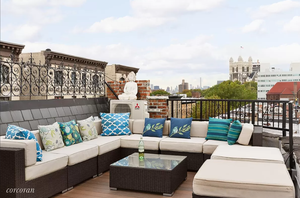 8. 329 West 112th Street | $5,145,000 (1/18/2023)| Morningside Heights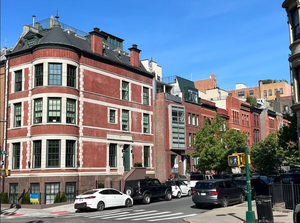 329 W. 112th St was a beautiful duplex situated on a corner property. This Morningside Heights home featured 2 large units and an elevator to every floor except the cellar. The homeowner had occupied both units, but this home has been sold as a wonderful investment opportunity.
The main apartment had a large living room with a beautiful fireplace and bar, a spacious library with a sitting area and a built-in hidden desk, as well as a powder room. The second floor featured a spacious eat-in-kitchen with state-of-the-art appliances, including a double Wolf oven and a Wolf 6 top stove with a griddle. It also had a built-in TV with surround sound, a formal dining room, and a half bath.
The third floor boasted a primary bedroom with a fireplace and walk-in closets, as well as a primary bath with a steel jacuzzi tub for two. The 4th floor included a staircase with access to a rooftop deck-conservatory, which was wired for cable to create a personal movie theatre. On this floor, there was another bedroom, a separate sitting area, a full bath with a white old-fashioned claw foot tub and shower, and a laundry chute that ran from the 4th floor directly to the laundry room.
The lower level featured one bedroom, an updated bath with a shower, a kitchen, a living room, and access to the laundry room and the main house. This home had many amenities, such as a security system, surround sound, wireless/wired internet, central air, and a thermostat controlled by a central Creston system. The basement square footage was 1,041, not included in the square footage.
The home was centrally located, steps away from Morningside Park with direct views of The Cathedral of St. John the Divine. It was also two blocks away from Central Park and close to Columbia University.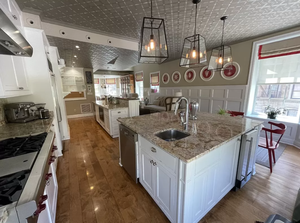 9. 32 Mt Morris Park West | $6,350,000 (4/6/2022) | Central Harlem South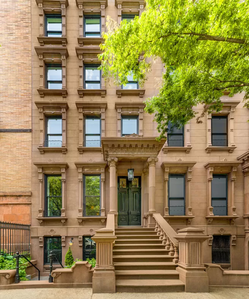 Introducing the extraordinary townhouse at 32 Mount Morris Park West, now in the hands of lucky owners. This magnificent residence boasts impressive space and a rich history, spanning 7,000 square feet. With its five bedrooms, five bathrooms, two powder rooms, and incredible features like a full primary suite/floor and a guest apartment, this home has it all. Not to mention the stunning 2,000 square feet of outdoor space.
Originally built in 1888 by John Dwight, the visionary behind Arm and Hammer Co., this property was intended for Clara, his daughter, and her husband, General Alexander Phoenix Ketchum. General Ketchum, a Civil War veteran who served under Abraham Lincoln, was fortunate enough to call this residence home.
Meticulously restored by the previous owner/designer, this mansion preserves its historical charm while embracing the comforts of modern living. Take advantage of the elevator, multi-zone HVAC system, and nine working fireplaces for a truly luxurious experience.
Located in Manhattan's Mount Morris Historic District, right on the edge of Marcus Garvey Park, 32 Mount Morris Park West is a sight to behold. Its grand façade, complete with a classic stoop and impressive front doors, welcomes you with open arms. Enjoy security, tranquility, and an elegant lifestyle in the vibrant heart of Harlem. Don't miss out on this exceptional opportunity.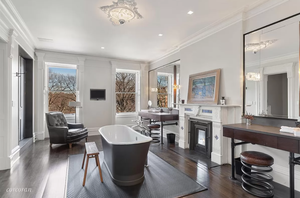 10. 2036 5th Ave | $6,995,000 (8/18/2022) | Central Harlem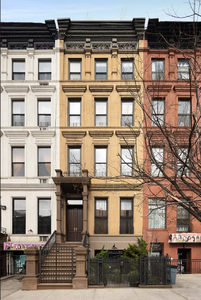 Discover a meticulously restored 5-bedroom, 6-bathroom townhouse spanning 8,000 square feet. Renowned architect, Jeffery Povero, oversaw the beautiful renovation, ensuring every detail is perfection. Immerse yourself in the abundance of natural light, stunning woodwork, and custom finishes that fill this home.
Step onto the parlor floor and be greeted by a back parlor lounge that features a gas fireplace and a vintage bar. The central hallway showcases original dark-wood wainscoting, creating a grand entrance. Entertaining is effortless with the fully stocked butler's pantry, while double doors open to a breathtaking 500 sqft terraced garden.
Ascend the elegant wood staircase to the sun-drenched living and dining area on the next floor. Enjoy loft-like ambiance and magnificent views of 5th Avenue. The pro-grade kitchen, separated by custom pocket doors, boasts a massive island countertop, dual 6-burner Wolf ranges, and high-end appliances. Floor-to-ceiling glass doors lead to an intimate outdoor deck with a built-in grill.
On the top floor, you'll find three additional bedrooms, two bathrooms, a spacious laundry room, and a hidden office space that adds a touch of magic. Crowned by a fully furnished roof deck with a built-in grill, a dining table for 8 under a wood pergola, and an irrigation system to maintain the lush garden.
Unwind in the primary bedroom suite on the third floor, complete with a gas fireplace, custom walk-in closet, and a luxurious five-fixture bathroom. Outside, find serenity in your private Jacuzzi. The top floor features three more bedrooms, two bathrooms, a laundry room, and a hidden office. The fully furnished roof deck offers a built-in grill and a dining area under a wood pergola.
The garden level now showcases a ten-seat home theater, formerly a production office. The basement offers a rec room, wine cellar, workshop/gym, and ample storage. Modern features, including central AC and Lutron lighting, bring convenience and style.
Located just one block away from the vibrant 125th Street, 2036 Fifth Avenue offers easy access to restaurants, shops, and cultural landmarks like the Studio Museum of Harlem and Apollo Theater. Experience the charm of Central Harlem, known for its rich history in music and nightlife. Historic blocks of townhouses, pocket parks, and tree-lined streets surround this exceptional property. Although it has found its new owner, its legacy of elegance and grandeur lives on.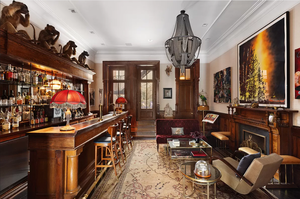 Thank you for checking out the list. Although these properties are expensive in Harlem it's affordable relative to other neighborhoods in Manhattan. With that said, the Harlem brownstone market is full of unexpected treasures waiting to be discovered. If you're interested in finding similar properties on or off market email me at [email protected], or click the button below to schedule a call with me.