Discover the rare gems of Harlem: renovated brownstones with private elevators! These stunning properties not only stand out in a market known for its scarcity of such amenities, but they also offer an exceptional value for buyers. While properties with elevators typically command top prices, these quality Harlem treasures provide an affordable alternative to the lower part of Manhattan. Invest in the future with these exclusive properties and seize the opportunity for remarkable appreciation with other homeowners.
Explore the List Townhouses with a private elevator Below
850 St Nicholas Ave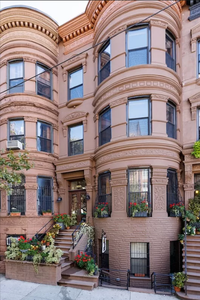 Welcome to 850 St. Nicholas Avenue, a true masterpiece of architectural splendor nestled within the esteemed Sugar Hill's Historic District. This impeccably restored townhouse, designed by the revered John C. Burne in 1894, effortlessly blends timeless elegance with modern luxury.
Prepare to be captivated as you step into this 22.5-foot-wide neo-Renaissance gem, flawlessly rejuvenated in 2017. Intricate wood carvings adorn every corner, paying homage to the impeccable craftsmanship of yesteryears. Aesthetic marvels are not the only treasures found within this abode, as cutting-edge upgrades have seamlessly integrated to enhance both comfort and convenience.
Spanning an impressive 4,980 square feet, this home effortlessly merges history and contemporary living. Ascend to new heights of bliss as you stroll onto the fully landscaped and self-irrigating rooftop terrace. Savor tranquility as sweeping views of the surrounding cityscape unfold before your eyes, a private oasis amidst the bustling ambiance of New York.
Indulge in the epitome of convenience with a private elevator seamlessly connecting your home elevator all four floors. Traverse effortlessly throughout this architectural work of art, ascending towards dreams and aspirations on each level. Allow the 7-zone central air conditioning and radiant heating to envelop you in year-round comfort, while preserving the historical charm of this magnificent residence.
Entertainment becomes an immersive experience with the seamless transition between indoor and outdoor spaces. Host grand gatherings under the stars, where laughter and cheer fill the evening air. The marriage between classic design and contemporary amenities creates an unmatched atmosphere, perfect for celebrating life's milestones.
Savor the prestige of a townhome residing within the heart of the Sugar Hill's Historic District, applauded for its Victorian mansions and iconic buildings. Explore the surrounding neighborhood, where history comes alive with every step. Experience the synergy between the past and present, embodied by the allure of this extraordinary townhouse.
Prepare to embark on a journey of refined living, where history intertwines with contemporary sophistication. Welcome to 850 St. Nicholas Avenue, where a legendary home awaits to be cherished for generations to come.
Don't miss this rare opportunity to own a piece of architectural magnificence in a great location. Schedule a private showing today.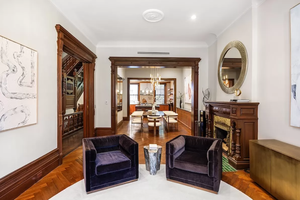 2001 5th Ave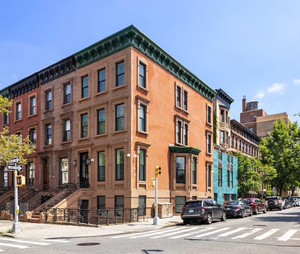 Welcome to 2001 5th Avenue, a magnificent oasis nestled in the heart of Manhattan. Step inside this extraordinary corner townhouse, and prepare to be enchanted by its unparalleled features and luxurious amenities.
Indulge in the ultimate relaxation experience as you immerse yourself in the indoor in-ground pool and hot tub, easily accessible by stairs or elevator. A true rarity in the bustling city, this aquatic masterpiece will transport you to a world of serenity and tranquility.
Unwind and rejuvenate in the cellar, where a full bath, sleek steam room and separate sauna await. Complete with a fully equipped wet-bar, this exquisite space is the epitome of opulence and offers the perfect escape after a long and tiresome day.
But the wonders of this home do not end there. Ascend to the next level and discover your personal two-car garage, providing both convenience, mobility and security in the heart of Manhattan. Adjacent to the garage, a versatile room awaits, ready to be transformed into your very own private gym, Peloton room, or even an additional bedroom or home office. The possibilities are endless.
Continue your exploration of this remarkable residence and admire the meticulously crafted custom wainscoting that adorns the walls, adding an elegant and refined touch to every room. Each inch of this magnificent home exemplifies sophistication and grandeur.
And for those seeking additional space or an opportunity for rental income, an adjacent apartment awaits your imagination. Whether you choose to create a private guest suite, a cozy sanctuary for family members, or a lucrative rental property, the project' potential is limitless.
2001 5th Avenue is more than just a home; it is a testament to exquisite living. From the magical pool and jacuzzi to the carefully curated spaces that enhance comfort and elegance, this residence is truly one-of-a-kind construction.
Do not miss the opportunity to own a slice of Manhattan paradise. Embrace the extraordinary and make 2001 5th Avenue your forever home. Contact us today to schedule your private tour and prepare to be captivated by the possibilities that await.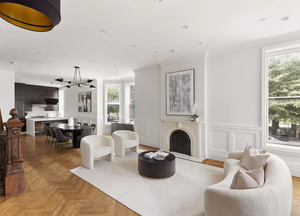 36 Hamilton Terr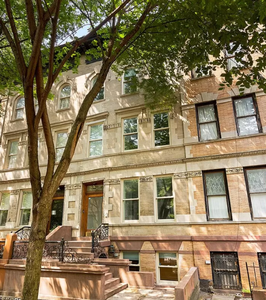 Welcome to 36 Hamilton Terrace, where historic charm meets modern luxury. This spectacular four-story townhouse is a true gem, featuring original woodwork, fireplaces, and high ceilings throughout.
As you step inside, you'll be greeted by a newly renovated home that seamlessly blends historic elegance with contemporary style. The chef's kitchen is a culinary haven and a perfect place to create mouthwatering meals for family and friends. Step outside onto the deck, where you can enjoy al fresco dining or simply relax and take in the tranquility of your surroundings.
Looking for even more outdoor space? You're in luck! This exceptional home boasts a back yard, perfect for gardening or a play area, as well as a marvelous roof deck with panoramic views. Imagine hosting unforgettable gatherings against the stunning backdrop of the Manhattan skyline.
With six bedrooms and five beautifully appointed bathrooms, there is ample space for everyone to unwind and find their own sanctuary. The laundry room adds convenience to your daily routine, while the safety of the security system offers peace of mind.
But that's not all – this home features an elevator that will effortlessly transport you from the garden level right up to the roof deck, making daily life a breeze for residents of new homes of all ages. No need to worry about lugging groceries or climbing stairs.
Situated on Hamilton Terrace, flanked by the home of Alexander Hamilton himself, this property offers the perfect blend of country living in the heart of Manhattan. Indulge in the charm of boutique restaurants just steps away, or hop on nearby transportation to explore all that the city has to offer.
Don't miss your chance to own a piece of history and experience the best of both worlds. Schedule a private showing of 36 Hamilton Terrace today and discover the perfect home that combines timeless elegance with modern convenience.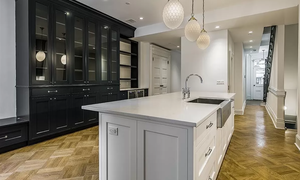 360 West 123rd St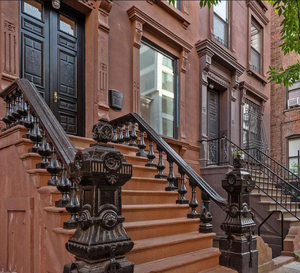 Welcome to 360 West 123rd Street, a truly exceptional home that combines luxury, comfort, and convenience in the heart of Manhattan. This newly renovated 6-story, 2-family brownstone will captivate you with its stunning design, beautiful quality finishes, and unparalleled amenities.
As you enter, you will be greeted by a flood of natural light pouring in from the floor-to-ceiling south facing windows on each level. With over 5,200 square feet of interior space, this home offers an abundance of room for both relaxation and entertaining.
Discover 14 rooms, including 6 spacious bedrooms and 7 full bathrooms, each equipped with heated floors for the ultimate indulgence. The true central air conditioning and heating, along with 8 temperature zones, ensure that your comfort is always perfectly tailored to your preferences.
Step outside and be enamored by the beautifully landscaped rear garden and not one, but FOUR large rooftop terraces, beckoning you to enjoy the outdoors in privacy. Need more open air? Ascend to the 405 square foot roof deck, granting you breathtaking views and the opportunity to bask in the sun or host unforgettable gatherings.
The upper residence, spanning 5 full floors, boasts ceilings ranging from 9'4" to 10'6", creating an open and airy atmosphere throughout. The convenience of an elevator servicing the parlor through the 6th floors ensures easy access and accessibility for all.
Designed with your comfort and security in mind, this home comes with custom window treatments, white oak floors, recessed lighting, and an ADT alarm system installed in both units. The multi-floor video intercom system allows seamless communication between floors, enhancing convenience and peace of mind for homeowners.
Conveniently located near Columbia University, just a stone's throw away from Morningside Park, and only walking distance of 2 blocks from services along Frederick Douglass Blvd & 125th Street, this home offers the perfect blend of tranquility and accessibility. With the A, B, C, D, 2, 3, 4, 5, 6 subway lines and Metro North in close proximity, your daily commute will be a breeze.
Don't miss the opportunity to make this exquisite brownstone your own. Contact us now to schedule a private showing and experience the epitome of luxury living at 360 West 123rd Street.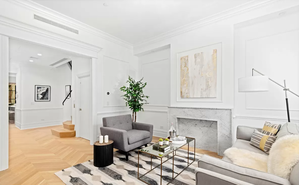 I hope you enjoyed our limited list of elevator townhomes. While Harlem may have higher prices, it remains more affordable compared to other Manhattan neighborhoods. The Harlem brownstone market is bursting with hidden gems just waiting to be found. If you're looking for assistance to find similar properties, whether on or off the market, feel free to email me at [email protected]. Alternatively, you can schedule a call with me by clicking the button below. Don't miss out on these exciting opportunities!